Total Nalimov Tablebases - 12 DVDs (6 DVDs per package)
Product Code: WIN0014CV
Description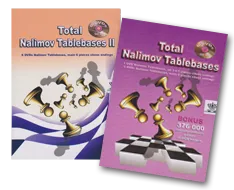 Total Nalimov Tablebases contains 12 DVDs, 100 Gb in total (Total Nalimov Tablebases I and Total Nalimov Tablebases II).
The most complete collection of Nalimov tablebases on 12 DVDs of double density (100 GB in total). Nalimov Tablebases contains Total Nalimov Tablebases I and Total Nalimov Tablebases II and allow receiving evaluations and variants for 3-4-5-6 pieces endings with 100% probability. Besides , while analyzing complex endings (7-piece or more) all playing programs, including Rybka 2.3.2 a, use the access to Nalimov Tablebases to receive a high-quality analysis. Gold Nalimov Tablebases can be connected to ChessBase, Fritz, Chess Assistant, Rybka 2.3.2a & Chess Openings 2007 and etc.
Nalimov Tablebases aslo includes a database of 376 000 correspondence games in PGN format. Nalimov Tablebases and Correspondence database are supplied in standard formats and can be used in all famous programs including Fritz, Junior, Chess Base, Chess Assistant, Rybka & Chess Openings and other.
System Requirements: 128 Mb RAM, Hard Disk 100 Gb, Windows 2000/NT/XP/Vista, DVD-ROM.
Returns & Exchanges
Computer Software and DVDs that come on Physical Media (such as CD-ROMs and DVD-ROMS) can only be returned or exchanged if the product is in its original, shrinkwrapped packaging and has not been installed or used in any way. Once you open the packaging of a Computer Software or DVD title, it can only be exchanged for a new copy of the same title and only if the original media is defective. There are NO exceptions to this rule.

Requires Windows
IBM-compatible PC, 256 Mb RAM, Hard Disk 100 Mb of free disk space, Windows 2000/XP/Vista/7. Request Nalimov-Compatible File Viewer
Media Mail Eligible
Media Mail® shipping from the US Postal Service is the cost-effective way to ship Books, Software and DVDs. With shipping rates starting at only $5.00, it's the most affordable shipping method available.

Reviews
Product Details
| | |
| --- | --- |
| Manufacturer | Convekta |
| Hardware Requirements | Windows |
| System Requirements | IBM-compatible PC, 256 Mb RAM, Hard Disk 100 Mb of free disk space, Windows 2000/XP/Vista/7. Request Nalimov-Compatible File Viewer |
| No. of Computer Installs | Up to 4 Computers |
| Windows 10 Compatible | Yes |