Description
A tribute to one of America's greatest chessplayers, Samuel Reshesvky, the Sammy-R is an exact reproduction of the Circa 1930s Jaques of London Staunton Pattern Chess Pieces that were used at many of the major international tournaments of the time, including the legendary A.V.R.O. 1938.


The House of Staunton is proud to offer the Sammy R Series Commemorative Chess Pieces. Part of the Camaratta Signature Series. they are a full club-sized Chess set that features a 4.4" King with a 1.9" diameter base. The Chess pieces are hand carved by our master artisans and crafted out of the highest grade Indian Rosewood / Boxwood and Genuine Ebony / Boxwood. The Chess pieces are heavily weighted with a beautiful finish.
As with all of our Chess sets, the Mayfield Series exemplifies a perfect combination of distinct beauty and functionality. It has been designed to withstand the rigors of practical play while maintaining an elegance which has become the hallmark of a House of Staunton chess set. The design, quality and craftsmanship of this set is UNMATCHED by any set of Chessmen in its price range. Nothing even comes close!
The Chessmen are new and each set consists of 34 Chessmen, including four Queens, a standard that was introduced by The House of Staunton in 1993.
NOTE - The Sammy-R also feature the F. Camaratta USA stamping on the base of the Boxwood King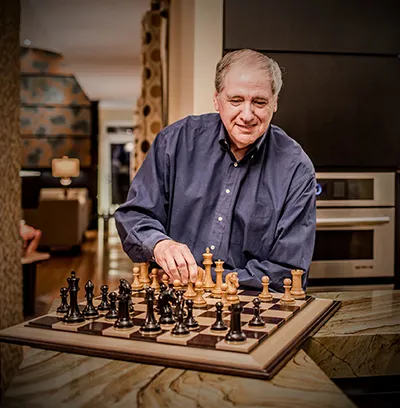 Frank Camaratta, the Maestro, has been involved in the World of Chess for over 60 years. Initially a player, having achieved the rank of International Master, Frank broadened his horizons, involving himself in chess promotion & governance, chess collecting and chess design research. He also has produced several chess-related patents, the most significant of which is Time Delay. Frank is today considered the foremost authority of Jaques and other Staunton and pre-Staunton chessmen, having written numerous articles on the subject.
Mr. Camaratta founded The House of Staunton in 1990, primarily collecting and dealing in antique chess equipment. It was during that period that inspiration struck to instill Old world craftsmanship and pride into present-day chessmen. In pursuit of that goal, Frank retired from his position as an Engineering Director on the Space Shuttle Program in 1998 to devote full time to making his vision a reality, which he did after spending years of research and study in to Staunton and pre-Staunton designs. The House of Staunton has emerged as the World's leading producer of Pre-Staunton and Staunton chessmen, as well as numerous artistically-inspired sets, which are unmatched in design, accuracy and craftsmanship.
History of the Chess Pieces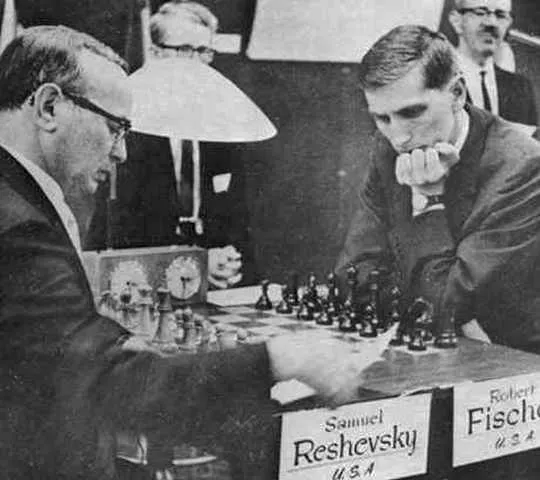 The Sammy-R, chessmen a tribute to one of America's greatest chessplayers, Samuel Reshevsky. These superbly crafted chess pieces are an accurate reproduction of the Jaques Club-size chessmen used during the 1930s and 1940s for many major International tournaments. This set of chessmen features a 4-1/4" King with a 2" diameter base. These heavily weighted sets are available in Boxwood and Ebony or Rosewood. They are part of the Camaratta Signature Series.
Sammy (born Szmul Rzeszewski on November 26, 1911, Ozorków)was a Polish-born chess prodigy and grandmaster. He dominated the American chess scene for nearly four decades. Reshevsky's professional chess career spanned seventy years, and was considered by his arch rival, Bobby Fischer, as one of the greatest players of all time.
Sammy-R's international career began in 1935, where he won at Great Yarmouth with 10/11. He then won first place at the Margate tournament where he beat, among others, former world champion José Raúl Capablanca. Sammy also competed eight times for the USA at the Chess Olympiads, six times on board one. In the 1955 team match against the USSR, he defeated world champion Mikhail Botvinnik, winning one and drawing three.
Samuel Reshevsky was a serious contender for the World Championship from 1935 to the mid-1960s. In the Zurich 1953 Candidates Matches, he finished second with David Bronstein and Keres. Bronstein wrote that the nine Soviet grandmasters were under orders from the KGB to not let Reshevsky win the tournament under any circumstances. Bronstein also claims that the Soviets prearranged several results in games amongst themselves to stop Reshevsky.
Back home, Sammy won the U.S. Championship for the first time in 1931 at Tulsa, at the age of nineteen. He shared the 1934 title with Reuben Fine at Chicago, and then went on to win the U.S. Championship in 1936, 1938, 1940, 1941, 1942, 1946, 1969 and 1971.
In his long career, Sammy-R proved a formidable match player, defeating many of the World's leading players. In 1961, he played a 16-game match with the enigmatic Bobby Fischer, but after 11 games - with the score tied 5 1/2 to 5 ½, Fischer walked out.
Layaway Available
We're proud to offer our new Layaway program!
With Layaway, purchasing from us has never been easier or more affordable. It allows you to purchase selected House of Staunton products by making payments over time.
Simply choose the items that you wish to purchase and how many months you wish to make the payments over.We'll automatically charge your debit/credit card each month. Once you've paid for the item/s in full, they'll be sent to you. It's that simple!

Reviews
Customer Reviews
Ideal Review by

steven

I bought the ebony version of this set. To me, this is the ideal set design for chess pieces to be used in practical play. Very beautiful and strong to look at and to touch, without being ornate, or florid. The pieces are nobly architected, turned, carved, and finished. The quality of the wood is sumptuous. This set would be entirely suitable for use in a World Championship match - and similar sets have been in the past (Fischer-Taimanov, Fischer-Petrosian, for example) . I especially appreciate the strong, straight, clean-cut pawns. The tops of the pawns are slightly oval in the vertical, as designed by Frank Camaratta, to echo the designs of some earlier Jacques sets, and are elegant to see, and to grasp in use. In fact the design of each type of piece is ideal - rooks, knights, bishops, queens and kings, and well proportioned to each other. I cannot imagine how they could be improved on. The pieces are made with great consistency and evenness, showing care and precision in manufacture. My only slight comment would be that the rooks seem a bit over-weighted - but that is a quibble and a matter of personal taste. Mr. Camaratta has employed his immense knowledge, perfectionism, and gifted sense of aesthetics to design and create a perfect chess set - and then made it available at a generously low price. Very highly recommended! (Posted on 10/2/2018)
Write Your Own Review
Included with Purchase
Certificate of Authenticity
Engraved Registered Plaque
Individual Production Number
Product Details
| | |
| --- | --- |
| Chess Board Included? | The Chess Board featured is for photographic purposes only and must be purchased separately |
| Material(s) | Genuine Ebony, Natural Boxwood, Rosewood |
| Manufacturer | The House of Staunton |
| Fitted Coffer Compatible? | Fits in Fitted Coffer |
| King Height | 4.4'' inch / 11.18 cm |
| King Base Diameter | 1.9" inch / 4.83 cm |
| Recommended Chess Board Size | 2.5" inch / 6.4 cm |
| Basepad Material | The Kings Feature English Leather Embossed with Frank Camaratta Signature™ |
| Median Set Weight | 70.2 ounces |
| Total Number of Pieces | 34 Chess Pieces, including 2 Additional Queens (for Pawn Promotion) |