Description
"With a strong hint of the Art Deco look that is reminiscent of the 1920s, they completely capture the essence of a serious set of chessmen while at the same time maintaining a look of pure elegance. "
To pamper you, The House of Staunton is proud to offer the *NEW* Empire Series Luxury Chess set. Designed by the Maestro himself, Frank A. Camaratta, Jr., it is a full Club-sized Chess set that features a 4.4" King with a 1.8" diameter base. The Chess pieces are hand carved by our master artisans and crafted out of the highest grade woods. The Chess pieces are heavily weighted with gold embossed English Leather base pads under the Kings, luxurious billiard cloth base pads on the other Chess pieces and a beautiful finish. The design of the Empire Series Luxury Chess set features a strong hint of the Art Deco look that is reminiscent of the 1920s. The chess set has been designed to take abuse while retaining an elegance and aesthetic beauty that has not previously been seen in a playing chess set at any price. There are no fragile details subject to breakage, such as collars, ball finials and Queen's crenellations normally found in conventional Staunton chessmen. The Empire Series Luxury Chess set is ideal for those that are interested in an heirloom quality Chess set that is a true work of art, one that is as beautiful as it is functional.
No Chessmen before have been able to so completely capture the essence of a serious set of chessmen while at the same time maintaining a look of such elegance, simplicity, durability and clarity. The pieces seem to ?melt? and conform to your hand. They just feel right. While the design of the Chessmen is elegant, don't let that fool you - This set is fully functional and ideal for all types of Chess play.
As with all of our Chessmen, the Empire Series Luxury Chess set exemplifies a perfect combination of distinct beauty and functionality. It has been designed to withstand the rigors of practical play while maintaining an elegance which has become the hallmark of a House of Staunton chess set. The design, quality and craftsmanship of this set is UNMATCHED by any set of Chessmen in its price range. Nothing even comes close!
The Chessmen are new and each set consists of 42 Chessmen, including eight Rooks and eight Knights in two different designs.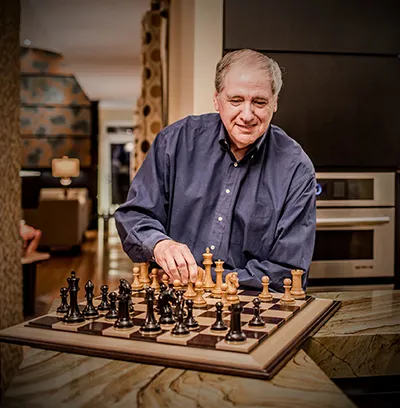 Frank Camaratta, the Maestro, has been involved in the World of Chess for over 60 years. Initially a player, having achieved the rank of International Master, Frank broadened his horizons, involving himself in chess promotion & governance, chess collecting and chess design research. He also has produced several chess-related patents, the most significant of which is Time Delay. Frank is today considered the foremost authority of Jaques and other Staunton and pre-Staunton chessmen, having written numerous articles on the subject.
Mr. Camaratta founded The House of Staunton in 1990, primarily collecting and dealing in antique chess equipment. It was during that period that inspiration struck to instill Old world craftsmanship and pride into present-day chessmen. In pursuit of that goal, Frank retired from his position as an Engineering Director on the Space Shuttle Program in 1998 to devote full time to making his vision a reality, which he did after spending years of research and study in to Staunton and pre-Staunton designs. The House of Staunton has emerged as the World's leading producer of Pre-Staunton and Staunton chessmen, as well as numerous artistically-inspired sets, which are unmatched in design, accuracy and craftsmanship.
History of the Chess Pieces
Art Deco was a popular design movement from 1920 until 1939, affecting the decorative arts such as architecture, interior design, and industrial design, as well as the visual arts such as fashion, painting, the graphic arts, and film. This movement was, in a sense, an amalgam of many different styles and movements of the early 20th century, including Constructivism, Cubism, Modernism, Bauhaus, Art Nouveau, and Futurism. Its popularity peaked during the Roaring Twenties. Although many design movements have political or philosophical roots or intentions, Art Deco was purely decorative. At the time, this style was seen as elegant, functional, and ultra modern.
Although Art Deco fell out of vogue in the 1940s, it has had numerous rebirths over subsequent decades. Its designs frequently appear in modern architecture, entertainment, and media when a "classic" or "retro" look is sought.
Layaway Available
We're proud to offer our new Layaway program!
With Layaway, purchasing from us has never been easier or more affordable. It allows you to purchase selected House of Staunton products by making payments over time.
Simply choose the items that you wish to purchase and how many months you wish to make the payments over.We'll automatically charge your debit/credit card each month. Once you've paid for the item/s in full, they'll be sent to you. It's that simple!

Reviews
Included with Purchase
Certificate of Authenticity
Engraved Registered Plaque
Individual Production Number
Product Details
| | |
| --- | --- |
| Google | Yes |
| Chess Board Included? | The Chess Board featured is for photographic purposes only and must be purchased separately |
| Material(s) | Genuine Ebony, Natural Boxwood |
| Manufacturer | The House of Staunton |
| Fitted Coffer Compatible? | Fits in Fitted Coffer |
| King Height | 4.4'' inch / 11.18 cm |
| King Base Diameter | 1.8'' inch / 4.57 cm |
| Recommended Chess Board Size | 2.5" inch / 6.4 cm |
| Basepad Material | The Kings Feature English Leather Embossed with Frank Camaratta Signature™ |
| Median Set Weight | 82.8 Ounces |
| Total Number of Pieces | 42 Chess Pieces |