Description
The House of Staunton is proud to offer our Reproduction of the Drueke Players Choice Chess Pieces. A full tournament-sized chess set, it features a 3.75" King with a 1.625" diameter base. The chess pieces are hand carved by our master artisans and crafted out of the highest grade woods. The chess pieces are heavily weighted with luxurious billiard cloth base pads and a beautiful finish.


As with all of our Chess sets, our Reproduction of the Drueke Players Choice exemplifies a perfect combination of distinct beauty and functionality. It has been designed to withstand the rigors of practical play while maintaining an elegance which has become the hallmark of a House of Staunton chess set. The design, quality and craftsmanship of this set is UNMATCHED by any set of Chessmen in its price range. Nothing even comes close!
The chessmen are new and each set consists of 34 Chessmen, including four Queens, a standard that was introduced by The House of Staunton in 1993.
History of the Chess Pieces
Among the most famous of American tournament chessmen are the pieces of the Drueke Players Choice set. Designed by William F. Drueke and Sons of Grand Rapids, Michigan, the sets were formally introduced at the 1965 National Open in Las Vegas. The United States Chess Federation endorsed them as official tournament set, and they quickly replaced the Windsor Castle sets of the fifties and early sixties.
The Players Choice pieces were molded in two parts from a plastic known as Tenite, which had a satin finish to the eye and the touch. They were widely used in clubs and tournament play throughout the United States, but the weights often came loose and rattled within the pieces. In his run to the World Championship of 1972, Bobby Fischer defeated Bent Larsen in a Candidates Match using the Drueke Players Choice chessmen.
In the late sixties, Players Choice sets began to be supplanted by Pacific Game Company's Cavalier chessmen, and then in the seventies by the ubiquitous Club Set.
Today, original Players Choice sets have become collectors items.

Fischer and Larsen, 1971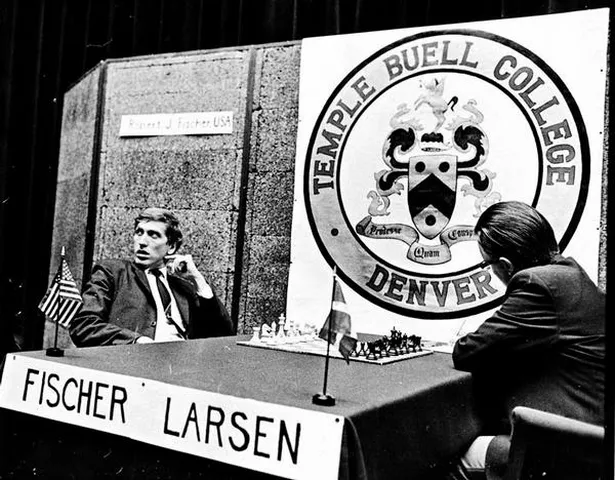 Larsen and Fischer, 1971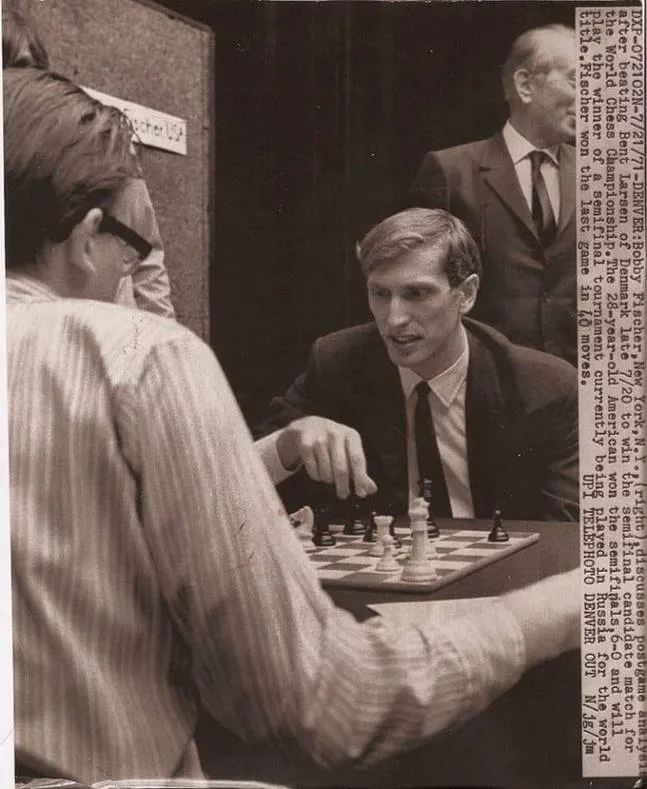 Lisa Lane's Players Choice Chessmen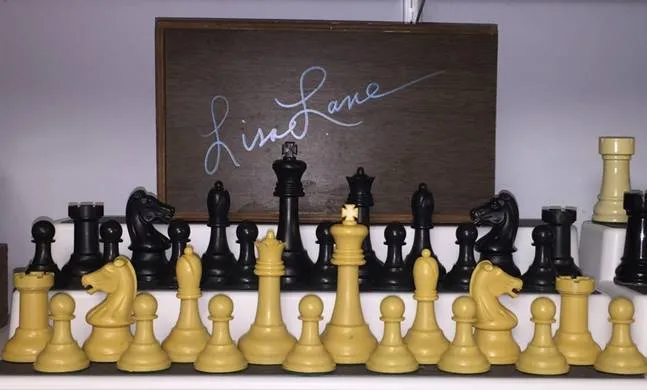 Reviews
Customer Reviews
Great Memories! Review by

Bob

I bought this set back in the late 60's early 70's as I recall? It has seen a lot of Blitz games over the years and it still looks great! (Posted on 12/21/2019)

Outstanding reproduction Review by

Eric G

This is a much more accurate reproduction of the Drueke tournament set than the one you had originally.... (Posted on 12/20/2019)

Excellent pieces Review by

Blueknight364

Wonderful pieces (Posted on 12/19/2019)
Write Your Own Review
Product Details
| | |
| --- | --- |
| Google | Yes |
| Chess Board Included? | The Chess Board featured is for photographic purposes only and must be purchased separately |
| Material(s) | Ebonized Boxwood, Genuine Ebony, Golden Rosewood, Indian Rosewood, Lacquered Boxwood, Natural Boxwood |
| Manufacturer | The House of Staunton |
| Fitted Coffer Compatible? | Too Small for Coffer |
| King Height | 3.75'' inch / 9.53 cm |
| King Base Diameter | 1.625'' inch / 4.13 cm |
| Recommended Chess Board Size | 2.25" inch / 5.7 cm |
| Basepad Material | Billiard Cloth |
| Median Set Weight | 36.1 Ounces |
| Total Number of Pieces | 34 Chess Pieces, including 2 Additional Queens (for Pawn Promotion) |