THE CHESSMEN:
The House of Staunton is proud to offer the Liberty Series Chess set. It features a 4.0" King with a 1.625" diameter base. The Chess pieces are hand carved by our master artisans and crafted out of the highest grade woods. The Chess pieces are heavily weighted with luxurious billiard cloth base pads and a beautiful finish. These Chessmen have been designed for those players looking for exceptionally well-crafted wooden Chessmen at a very reasonable price! Designed by the Maestro, it is without a doubt the most attractive yet durable set available on the market at this price point. We at the House of Staunton understand that not everyone can afford one of our luxury Chess sets, so we proudly offer the Liberty Series Chessmen for your consideration - A high-quality wooden Chessmen at a reasonable price.
Our Liberty Series Chess set is an exact reproduction of one of the most popular American Staunton Pattern chessmen, first introduced in 1941. The original sets were used in most major chess clubs throughout the States for nearly two decades and were the set of choice for major tournaments held in the U.S. during that period. The pieces featured a very robust design with thick collars and no delicate frills to chip or break during hard usage. So confident were the original manufacturers of the indestructibility of their new design that they unconditionally guaranteed each piece for life! With the advent of Blitz and Bughouse, we're not so adventurous, although this is unquestionably the best set of chessmen for blitz play you can buy!
As with all of our Chess sets, the Liberty Series Chessmen exemplifies a perfect combination of distinct beauty and functionality. It has been designed to withstand the rigors of practical play while maintaining an elegance which has become the hallmark of a House of Staunton chess set. The design, quality and craftsmanship of this set is UNMATCHED by any set of Chessmen in its price range. Nothing even comes close!
The Chessmen are new and each set consists of 34 Chessmen, including four Queens, a standard that was introduced by The House of Staunton in 1993.
THE CHESSBOARD:
Crafted in Europe, the Mahogany & Maple Wooden Tournament Chessboard features Mahogany (dark) and Maple (light) squares with a Mahogany frame. This Veneered Chessboard is 0.5'' thick, has a satin finish, has the House of Staunton logo silk-screened on the h1 square and has the Rank and File Labels that make it an excellent training tool.

2.25" Squares have a board dimension of 21.25" x 21.25"
THE CHESSBOX:
The Slide-Top Chess Box comes with the Frank Camaratta Signature logo silk-screened on the lid. Can hold Chessmen with 4.4" King - including 4 Queens Green Velour Lining Includes removable Green "Pillows" for each of the divided compartments that will allow it to safely store small Chess sets. Whether you have a 3.0" set or a 4.4" set, they will fit perfectly in this slide top box. Divided storage compartments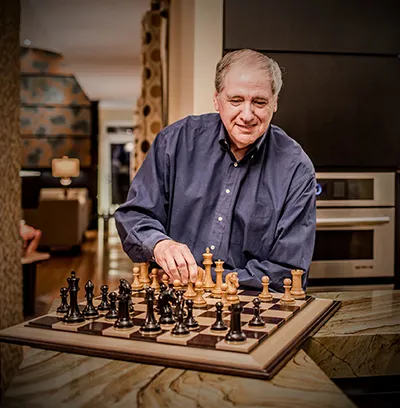 Frank Camaratta, the Maestro, has been involved in the World of Chess for over 60 years. Initially a player, having achieved the rank of International Master, Frank broadened his horizons, involving himself in chess promotion & governance, chess collecting and chess design research. He also has produced several chess-related patents, the most significant of which is Time Delay. Frank is today considered the foremost authority of Jaques and other Staunton and pre-Staunton chessmen, having written numerous articles on the subject.
Mr. Camaratta founded The House of Staunton in 1990, primarily collecting and dealing in antique chess equipment. It was during that period that inspiration struck to instill Old world craftsmanship and pride into present-day chessmen. In pursuit of that goal, Frank retired from his position as an Engineering Director on the Space Shuttle Program in 1998 to devote full time to making his vision a reality, which he did after spending years of research and study in to Staunton and pre-Staunton designs. The House of Staunton has emerged as the World's leading producer of Pre-Staunton and Staunton chessmen, as well as numerous artistically-inspired sets, which are unmatched in design, accuracy and craftsmanship.