The Leicester Series Chess Set, Box, & Board Combination
Enjoy Savings of 25% Off MSRP When Purchased as a Combination
Product Code: LEICOMBO2
Description
THE CHESSMEN
The House of Staunton is proud to offer the Leicester Series Chess set. It features a 4.0" King with a 1.875" diameter base. The Chess pieces are hand carved by our master artisans and crafted out of the highest grade woods. The Chess pieces are heavily weighted with luxurious billiard cloth base pads and a beautiful finish. The Leicester Series Chess Set offers an elegant twist on the Staunton Pattern. The Maestro, Frank A. Camaratta, Jr., is proud to offer this exceptionally well-crafted set of wooden chessmen that combines a slender profile with a masterful bridled Knight design.
As with all of our Chess sets, the Leicester Series Chessmen exemplifies a perfect combination of distinct beauty and functionality. It has been designed to withstand the rigors of practical play while maintaining an elegance which has become the hallmark of a House of Staunton chess set. The design, quality and craftsmanship of this set is UNMATCHED by any set of Chessmen in its price range. Nothing even comes close!
The Chessmen are new and each set consists of 34 Chessmen, including four Queens, a standard that was introduced by The House of Staunton over 10 years ago.
THE CHESSBOARD
The Standard Traditional Walnut / Maple Wooden Chessboard with 2.25" Squares features Walnut (dark) and Maple (light) squares with a Walnut frame. This veneered Chessboard is 0.5" thick and has a satin finish.
THE CHESSBOX
The Premium Chess Box is lined in green billiard cloth, divided and features brass quadrant hinges and a lock & key.
History of the Chess Pieces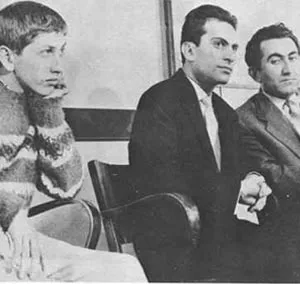 Fischer, Tal and Petrosian - 1959
World Chess Champions
From September 6 to October 31 of 1959, eight of the world's strongest Grandmasters competed in a powerful quadruple Round-Robin Tournament, played in Bled, Zagreb and Belgrade, Yugoslavia, to determine the challenger for the crown of World Chess Champion currently held by Soviet Grandmaster Mikhail Botvinnik. The participants of the tournament were Mikhail Tal, Paul Keres, Tigran Petrosian, Vasily Smyslov, Svetozar Gligoria, Frederik Olafsson, Pal Benko and a 16-year old American named Robert James "Bobby" Fischer. This prestigious list includes 4 World Chess Champions.
Tal showed superior form by winning with 20/28 points, ahead of Paul Keres with 18.5, followed by Tigran Petrosian, Vasily Smyslov, Bobby Fischer, Svetozar Gligoria, Frederik Olafsson, and Pal Benko. Tal's victory was much attributed to his dominance over the lower half of the field; whilst scoring only +1 -3 vs Keres, he won all four individual games against Fischer, and took 3 3/4 from Gligoria, Olafsson, and Benko.
Although Bobby Fischer failed to win the Candidates Tournament, he finished a respectable fifth place and established himself as a legitimate contender for the World Chess Championship.
Layaway Available
We're proud to offer our new Layaway program!
With Layaway, purchasing from us has never been easier or more affordable. It allows you to purchase selected House of Staunton products by making payments over time.
Simply choose the items that you wish to purchase and how many months you wish to make the payments over.We'll automatically charge your debit/credit card each month. Once you've paid for the item/s in full, they'll be sent to you. It's that simple!

Reviews