The Mammoth Ivory and Genuine Ebony Collector Series Luxury Chess Set - 4.4" King
Product Code: MENIVRCOL44-EB
Description
"Crafted from 40,000-year old Wooly Mammoth Ivory (White) and Genuine Ebony (Black), they capture the exquisite design and proportions of the original Staunton pattern Chess set, registered by Nathaniel Cooke and produced by Jaques of London in 1849."
To pamper you, The House of Staunton is proud to offer the Mammoth Ivory & Ebony Collector Series Signature Chess set. This heirloom quality Chess set features a 4.4" King with a 2.0"diameter base. The Chess pieces are hand carved by our master artisans and crafted out of the finest materials. Because of the natural weight of Mammoth Ivory, the pieces have an excellent feel that does not require any artificial weighting. The opposing army, which has been crafted from Genuine Ebony, have been weighted to match their Ivory counterparts.
The Ebony Chess pieces come with gold embossed English Leather base pads under all of the pieces, while the Ivory Chess pieces are presented au natural. This is done intentionally to allow the Chess players the opportunity to appreciate the magnificent grain of the Mammoth Ivory on the underside of the pieces. Included with the purchase of this Chess set is an additional set of English Leather base pads that can be affixed to the underside of the Mammoth Ivory army if so desired.
The Chessmen are new and each set consists of 34 Chessmen, including four Queens, a standard that was introduced by The House of Staunton over 10 years ago.
The Chess Set comes with a personalized Certificate of Authenticity and an original manufacturer's label indicating the production number, with an adhesive backing that would allow it to be affixed to the underside of a Chess box.
History of the Chess Pieces
The Mammoth Ivory is excavated from the permafrost of the Siberian tundra, which the wooly mammoth inhabited for more than 160,000 years. During the last ice age, the mammoth went extinct as the direct result of rapidly plummeting temperatures that literally flash froze the entire population of Mammuthus primigenius. The dry, cold environment of Siberia combined with the massive sheets of ice from the ice age created the ideal environment for the preservation of Mammoth Ivory. The wooly Mammoth have been entombed under the Siberian permafrost ever since, waiting to be unearthed.
For more than 2,000 years, Mammoth Ivory has been traded and it remains a highly prized commodity across the world. While that demand for the Mammoth Ivory has always been higher than its supply, it skyrocketed in 1963 when the CITES agreement was enacted. This agreement banned all sales of new Elephant or Walrus Ivory, in an effort to protect the animals from extinction. As a result, Mammoth Ivory became the only type of animal-based ivory that is exempt from the international trade restrictions because it is considered to be a fossil. Over the past few years, the price of Mammoth Ivory has more than doubled, due largely to the unprecedented demand for luxury goods from such emerging countries as India and China. This trend is expected to continue.
Less than one percent of the Mammoth Ivory harvested is of suitable quality for the manufacturing of Chess pieces, making these exquisite Chessmen a rare treasure to behold.
Returns & Exchanges
This item is made on a bespoke (custom order) basis only and is manufactured to your exact specifications. As a result, we will not be able to honor any order cancellation, return or exchange requests for this item.
Layaway Available
We're proud to offer our new Layaway program!
With Layaway, purchasing from us has never been easier or more affordable. It allows you to purchase selected House of Staunton products by making payments over time.
Simply choose the items that you wish to purchase and how many months you wish to make the payments over.We'll automatically charge your debit/credit card each month. Once you've paid for the item/s in full, they'll be sent to you. It's that simple!

Laser Engraving

NOW AVAILABLE - PERSONALIZED CHESS BOXES!

Are you looking to make that Chess gift special and something they will cherish forever?
The House of Staunton is proud to offer Personalized Engraving that will allow you to customize your chess box with your personal message,creating a truly unique gift that they will be sure to love.
Gift engraving is perfect for many memorable occasions, for corporate branding or simply to offer a special gift to your friends and family.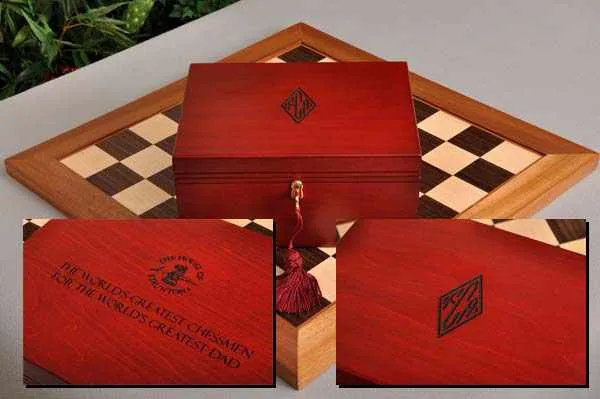 Personalized Gifts are great for...
BIRTHDAYS
ANNIVERSARIES
GRADUATIONS
WEDDINGS
NOTABLE ACCOMPLISHMENTS
JUST BECAUSE YOU CARE!
Why choose The House of Staunton to personalize your Chess Gift?
Unlike the engraving shop at your local mall, the House of Staunton doesn't not charge you up to $3.00 per character for engraving.
Our prices are very affordable, with text engraving starting at just $25.00 Per Line (up to 60 Characters). We use an industrial-grade Laser Engraver that allows us to achieve an incredible amount of detail in our engravings.
Your gift should say what you want it to say and not be limited by how much it costs you to say each of those words!
Note: Only Premium Chess Boxes and Fitted Coffers can be Personalized with engraving directly on the wood.
All other Chess Boxes, including the Fitted Briefcase, will come with a laser-engraved brass plaque when personalized.